Traders are about to get more trading analysis for their commission buck.
KCG Holdings, the new firm birthed from Knight Capital and GETCO, has announced that it will launch a new quantitatively-driven market commentary service for its trading clients. And it has hired market pro and former Credit Suisse alum Phil Mackintosh to lead the new group.
The new KCG offering will provide traders information and insights to help traders more fully understand the complexity of the markets. The group looks to help answer questions such as what items drive performance, where liquidity comes from and how much it really costs to trade.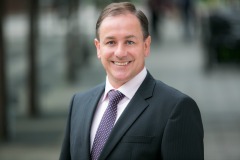 The markets are constantly changing and the new KCG Trading Strategy and Analysis team will provide expertise, transparency and insights to clients to help them navigate the best ways to deal with the complexities of modern markets, Mackintosh told Traders in an exclusive interview. We at KCG want to be able to explain the complexities of the current market structure into terms and concepts everyone can more easily understand.
As part of Mackintoshs goal or mandate to help buyside traders understand market structure is also to help them evaluate performance in an increasingly automated marketplace. Being a buyside trader today isnt that same as it used to be 5 or 10 years ago, he said, noting buyside traders have lost the assistance of specialists and other market participants to help them trade and process information in the marketplace. Now, he added, the buyside trader has to be an expert in myriad skillsets and has multiple demands placed on his valuable and limited time, which include actually trading in a more complex environment.
And this is where Mackintosh and his team plan to set up shop.
As the market goes more electronic and trading flows suit, shops like KCG need to help our clients see whats going on under the electronic market hood and understand it, Mackintosh said. My role is to help clients become more fluent in the various market dynamics involved with trading electronically today."
Mackintosh, a market professional with 20 years of experience, comes onboard as KCGs head of trading strategy and analysis. Mackintosh comes from Credit Suisse, where he most recently was a managing director and global head of trading strategy. In his new role, he will be responsible for researching, publishing and consulting with KCGs trading clients on topics related to transaction costs, trading strategies, market structure, ETFs and index events, among other content. He reports to Greg Tusar, co-head of global execution services and platforms.
The addition of Mackintosh bulks up the firms street cred – marking its third major bulge bracket hire in less than a year. Tusar himself joined the firm from Goldman Sachs last August and Charles Susi, UBSs former global co-head of direct execution, came shortly after Susi. Susi also reports to Tusar and the other co-head of global execution services and platforms, Albert Maasland.
We are thrilled to welcome Phil to KCG, said Greg Tusar, co-head of KCGs global execution services and platforms. Our clients are demanding and consuming different kinds of content — beyond traditional research — to seek insights, perspective and liquidity expertise that enhances their ability to preserve alpha and manage risk.
Mackintosh will also lead the publication of cash equity market and sales commentary to help KCG clients stay abreast of changes in securities markets and educate clients on how those changes impact their trading. Also as part of his mandate, Mackintosh will be responsible for helping KCGs ETF issuer clients and end users understand the various nuances and idiosyncrasies of products and transactions related to ETF index weightings.
In addition to publishing commentary to a base of KCG trading clients, Mackintosh will lead the development of KCGs framework for trade-cost analysis (TCA.) In order to develop this framework, he will consult with individual clients on how they might enhance their strategies or better apply tools and order types to reduce frictional costs.