A proposed securities transaction tax hurts the recovery, ignores history and will have unintended consequences, Nasdaq OMX chief executive Robert Greifeld said yesterday in his first public comments on the plan.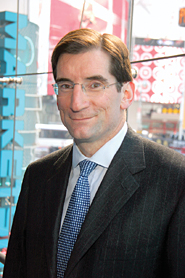 An attitude of disdain for the securities industry is understandable, Greifeld said. But a transaction tax "will miss the intended victim and hit the American investor and worker at the wrong time," said Greifeld, in comments he made at the National Press Club, in Washington, D.C. He added that the proposed measure would be a "tax on liquidity."
Various tax schemes have been offered by members of Congress and the Obama administration as a way of requiring the financial services industry to pay for the costs of government bailouts.
The administration has already backed a plan to tax banks. Separately, Rep. Peter DeFazio, D-Ore., and Sen. Tom Harkin, D-Iowa, have proposed a transaction tax as a way of penalizing firms that they believe were responsible for the market meltdown of 2008.
Traders, through the Security Traders Association, have said that such a tax would result in wider bid-ask spreads, greater volatility and generally would decrease efficiency in the markets.
Jack Bogle, the retired founder of the Vanguard Funds, supports the tax. In a recent Wall Street Journal op-ed piece, he wrote that such a tax could "enhance the role of investors and diminish the role of speculators."
But Greifeld warned that the transaction tax had been tried several times, always raising less money than expected and hurting markets. His examples of transaction taxes that failed included 1930s America in the midst of the Great Depression, Sweden in the 1980s and recently in China.
"In 2007, concerned that its markets were overheating, China tripled its 0.1 percent transaction tax. And the markets fell by 6.9 percent in a few hours. Trading stopped for 50 of the CSI 300 benchmark members that hit the limit of a 10 percent decline," Greifeld said.
If approved, a new tax on the securities industry would have the same result, he added.
"Rather than encouraging capital formation," Greifeld said, "these proposals would damage our equity and ownership culture."