Citi's block trading desk has developed a messaging system called TotalTouch that allows clients to hit or take a firm quote.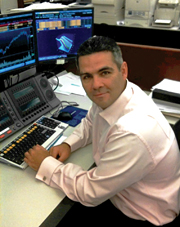 For clients, the system offers a continuously updated one-sided quote that brings certainty of execution. But for Citi, it puts its capital at risk. Quotes are generated by a model, but the sector trader inputs which stocks he is willing to trade. The trader also controls pricing and can override the model, depending upon how aggressive he wants to be.
The system is currently available only to a select group of clients, essentially its tier-one accounts. TotalTouch was introduced in the first quarter of this year.

"We're electrifying the high-touch market, or introducing risk to the fully electronic markets," said Armando Diaz, who heads franchise trading at Citi. The quote is essentially a stop, which ensures that a customer will do no worse than that price.
"I think this will add to the high-touch business," said Diaz, a 21-year veteran who joined Citi in 2008, after having spent his entire career at Goldman Sachs. He began developing the system 18 months ago.
Clients are comfortable with the workflow of electronic trading, he explained, so "there is no reason high-touch trading can't be click-and-trade."
For the equities business, actionable IOIs, or indications of interest, have been the Holy Grail of trading. Diaz believes TotalTouch is the first of its kind to have reached the market. So far, he considers the system a success because it has met his expectations. He declined to specify what those expectations are, other than to say that clients who have it, "like it and use it a lot."
Several money managers contacted by Traders Magazine said they were unfamiliar with the new system. But they said the TotalTouch product piqued their interest. They also said it sounded similar to Bank of America's Premier Block Trading offering, or PBT, which was launched in 2004.
PBT, however, was different in that it made two-sided markets. PBT was an electronic trading product that went head-to-head with Bank of America's high-touch desk. Because the sales traders viewed PBT as competition, it never gained the trading desk's support. It failed because BofA's sales traders would simply get a price from clients and do better, sources told Traders Magazine.
Like all trading technology, Diaz said TotalTouch allows the desk to trade more efficiently. Quotes are sent through traditional IOI venues and order management systems. Once a clients clicks on a quote, both the sales trader and the trader get a pop-up. An algo begins working the order immediately. The trader monitors the stock and can hedge if necessary, and the sales trader is freed to provide service to the client.
One major benefit is that electronic responses from clients avoid "economic or concession leakage." That's a frequent occurrence when negotiating a trade using capital over the phone and the market ticks against the broker. That can add up over 12 months of trading, Diaz said. "We're taking more risk, but we're doing it more efficiently."
Not all clients are on TotalTouch, so there are still capital negotiations done over the phone. Diaz also offered his assessment of how block trading will evolve: "To succeed in the future, brokerage firms will need to improve their ability to handle risk and do it in a world that is electronic."