Institutional broker BTIG celebrated its annual commissions for charities day this Tuesday by raising about $4 million for various charities.
The broker enjoyed healthy trading volumes on May 14, which helped make BTIG's 11th annual Commissions for Charity Day a success, according to Steve Starker, co-founder of BTIG. The firm is contributing to 150 charities.
While the phones were ringing and trades executed, Starker told Traders Magazine that the spirit of the day was reflected in a conversation he observed between celebrity Chef Eduardo Garcia and supermodel Petra Nemcova.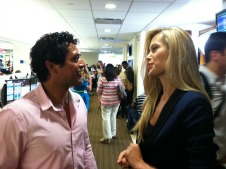 "The two were literally comparing notes on their near-death experiences and how they manage to both exude such an incredible, positive energy," Starker recalled. "They both said that the more positive energy they put out, the more they get back from others."
During a backcountry hike in October 2011, Garcia was electrocuted by a main line power source. He suffered life threatening injuries. He was airlifted to the a burn trauma ICU in Salt Lake City, where he fought for his life over 50 days. To date, he has had 21 surgeries to cope with the nine exit wounds he suffered as a result of the shock. He lost four ribs, muscles from his legs, torso, scalp and had his left hand amputated.
Nemcova almost drowned during the 2004 tsunami that struck Indonesia and the Pacific. She managed to cling to a tree in Thailand for eight hours. That saved her life despite, but she was told she would never walk again.
Both have recovered from injuries. And that was what the day was all about – putting life's challenges behind and helping others. Garcia and Nemcova represented the Challenged Athletes Foundation and Happy Hearts Fund, respectively.
The charities managed to benefit from low volatility and enjoyed the support of a bull market as program traders, hedge funds, mutual funds and other institutional accounts kept the phones ringing, Starker added.
Last year's event was held on April 18. That's when the Dow Jones Industrial Average managed to survive a mild sell-off by Citigroup's shareholders. They were concerned and worried about the bank's $15 million pay package for chief executive Vikram Pandit and Warren Buffett's health, BTIG traded 160 million shares. Against that backdrop, the broker raised $4.5 million.
The first BTIG Commissions for Children's Charity Day raised funds for three charities.
This year BTIG donated the commissions it earned from the shares that changed hands in its equity and equity derivatives operations. The money will be divvied up between 150 major nationwide charities, most of which are children's charities. The charities, to name a few, include All Stars Helping Kids, Alliance for Veteran Support, Autism Speaks, National Down Syndrome Society and The Leukemia and Lymphoma Society.
Celebrities helping raise money for children and manning the brokers' phones around the country included; comedian Steve Schrippa; New York Yankees Joe Girardi, Mark Texiera, Mariano Rivera, Vernon Wells; New York Football Giants Tom Coughlin, David Diehl, Victor Cruz and Eli Manning; New York Jets Rex Ryan, Marty Lyons and John Idzik; celebrities Michael J. Fox, Bode Miller and Miss Universe Olivia Culpo.
BTIG has offices in New York, San Francisco, Dallas, Boston, Chicago, Los Angeles, Greenwich, Conn., Red Bank, N.J. and Orinda, Calif. The firm also has four overseas affiliates in London, Hong Kong, Singapore and Sydney.
As is the broker's longstanding practice, employees and clients not only contribute time and finances to the event, but they also nominate charities and non-profits for donation consideration. BTIG encourages clients to select child focused organizations.
Since the event's inception eleven years ago, BTIG has raised upwards of $29 million.