(Bloomberg) — Bank of America Corp.'s Scott Bacigalupo, head of Americas cash equity sales and trading, has become the second senior Merrill Lynch stocks veteran to depart the firm in a week.
Bacigalupo, 43, will take time off before deciding on his next endeavor, according to a staff memo sent Tuesday describing a broader reorganization in the unit. Bacigalupo oversaw about 60 traders and others who execute orders and serve institutional clients. Last week, Bank of America told employees that his boss, Henry Mulholland, equities head for the Americas and a 25-year veteran of Merrill Lynch, was leaving.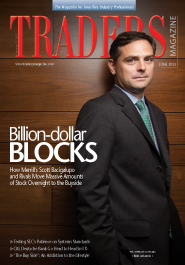 Traders profiled Bacigalupo in its June 2013 Cover Story, "Billion Dollar Blocks."
The departures under equities chief Fabrizio Gallo further erode the clout of Merrill Lynch's workforce inside Bank of America, which agreed to buy the brokerage during the depths of the 2008 financial crisis. Gallo named replacements for another longtime Merrill manager, Michael J. Lynch, as head of Americas equities sales at the end of 2013. Lynch took a new role.
Bacigalupo joined Merrill Lynch after graduating in 1994 from Princeton University, where he was a revered lacrosse goaltender. He led Princeton to a 52-8 record and the school's first two NCAA championships in 1992 and 1994, according to the university's athletic department. He had 732 career saves and was named to the National Lacrosse Hall of Fame in 2010.
"Bacigalupo is among the greatest goalies ever to play the sport," according to an article from the athletic department.
He didn't return an e-mail or phone call seeking comment on his exit. Zia Ahmed, a company spokesman, declined to comment.
Unit's Reorganization
Bank of America announced the other personnel changes after Bacigalupo's departure. Doug Crofton, head of U.S. cash equity trading and a 15-year veteran of the firm, was named head of Americas core cash trading, reporting to Steve Bayardelle, head of global execution services.
Viraj Verma, head of Latin America cash equities trading, will now also run international U.S. dollar core cash trading. Michael Breheney was named head of Americas sales trading across high-touch businesses. Fabio Resegue, head of Latin America equities distribution, will now also take on international sales trading in New York.
Bank of America's equities trading revenue slipped 1.8 percent last year to $4.15 billion, excluding some accounting adjustments, ranking the firm fourth among the five biggest U.S. investment banks. Morgan Stanley led the group with $6.9 billion. Equities trading revenue at the five firms slid 1.3 percent to $25.3 billion last year.