Independent research is taking on a bigger role at Bloomberg Tradebook. The agency brokerage has nearly doubled the number of "indie" research providers it offers to institutional clients.
Bloomberg began its research program in May with roughly 11 firms, and with recent additions, it now has 20 separate independent providers. The offerings are wide-ranging and include research that is fundamental, as well as industry-specific. Its research product covers about two-thirds of the companies in the S&P 500.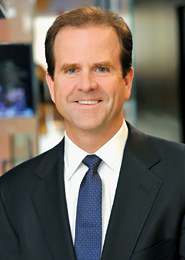 "Historically, the majority of Bloomberg Tradebook's client base has been the trading desk," said Ray Tierney, president and chief executive of Bloomberg Tradebook, "and what we're trying to do is broaden our depth and reach by moving upstream to serve the portfolio manager and analyst by supporting an independent research offering."
Tierney, a former Morgan Stanley brokerage exec, described the arrangements as "partnerships," adding that Bloomberg has not taken equity stakes in any of the providers. The agreements are not exclusive, either.
Bloomberg has added a research sales team of six in the United States. Global sales is run by Richard Gould, a former Morgan Stanley veteran with a derivatives background. To date, other than the month of August, Tradebook has reached its "reasonable" sales goals for the research product.
Tierney stressed that success will depend upon delivering a "differentiated product" that clients want because it can generate them additional returns over their benchmarks. "Our goal is to drive growth and be innovative in delivering our research product," Tierney said. "I want to avoid a 'me too' product because we want to give clients what they need, not just what we think they need."
Indeed, commissions have been harder to come by for all brokerage firms over the last two years—particularly for agency brokers without research. Bloomberg's move mirrors an industry-wide trend of agency brokers adding research to ensure their trading desks stay busy and maintain commission levels. Commissions fell in 2010 by 12 percent, according to Greenwich Associates, and that comes after a 13 percent slide the year before.
These have also been difficult times for independent research, as well. Integrity Research Associates, which helps money managers choose independent research, reports that spending on independents has been in a downward spiral for the last three years.
This year, Integrity reports that spending for independent research is expected to account for $1.47 billion—that's down from $1.64 billion last year and $1.8 billion in 2009. On top of that, 2009's spend was down 18 percent from the previous year. The good news is that decline is expected to "flatten" in 2012. Thereafter, spending should begin to climb "modestly" beginning in 2013, said Integrity president Sandy Bragg.
Things looked much rosier in 2006, when Integrity predicted that independent research would reach $2.5 billion by 2010. At the time, independent research was about a $1.8 billion business.
Bragg said that independent research lost traction as a result of the financial crisis. Also, the recent insider trading investigation placed heavy scrutiny on expert networks, which fall under the category of independent research. As a result, some managers have curtailed their use of this research due to compliance concerns.
Combine those reasons with a smaller commission spend, and independent providers were squeezed, particularly when money managers focused on paying their full-service brokers to stay in their good graces for corporate access, IPOs and secondaries.
Integrity Research tracks about 1,000 independent research firms, and between 300 and 400 do fundamental research, Bragg said. But there is an equally large segment that offers very specialized research—a group that has historically gotten little of its revenues from the buyside, he said.
He singled out John Burns Real Estate Consulting, a firm new to the Bloomberg research platform that has historically done business with home builders and mortgage lenders. "There are a lot of firms like that," Bragg added.
Tierney's expects Bloomberg's research offering to grow to about 25 firms by the end of the year. He doubts the list of independent research providers will ever go beyond 30 firms. As far as additions and subtractions to the research list, he said that performance, client demand and what's hot in the market will be the deciding factors.
How a client decides to pay for a "research subscription"—by check, CSA or trading through Bloomberg's desk or algos—is up to the client, Tierney said. The length of time a client wants to purchase the service is also up to the customer, whether it is three months or longer, he added.
"We want to be as flexible as we can," Tierney said, "because, after all, we're trying to build a business."
Part of building that business is keeping the independent research providers and the research salesmen in front of customers. Account executives are also encouraged to get appointments for them.
But Bloomberg's distribution of its more than 300,000 terminals globally might be its biggest asset, and that was a major attraction for the independent firms to sign with the firm, Tierney said. Besides face-to-face meetings with clients, research providers will also be part of video broadcasts Bloomberg plans to host on its terminal. This video feature is also undergoing an expansion of bandwidth, which should give the picture higher resolution.
The video broadcasts potentially could be extended to corporate access, something Bloomberg is planning to offer clients during the first quarter of next year. It is in the process of signing up with an independent provider of that service, as well. Corporate access represents about 40 percent of the research commission spend, according to Greenwich Associates.
In the end, Bloomberg's strategy is clear and revolves around research to keep the ubiquitous brand top of mind for clients. "No longer am I just relying on an execution-only model," Tierney said. "The independent research offering provides a recurring revenue stream."