Block trading in Canada is on the rise.
Over the course of 2012, the value of equity trades done as crossed blocks in the Great White North rose to nearly 25 percent.
In 2012, that amounted to approximately $67.9 billion worth of blocks when compared to a total value of $295.6 billion that changed hands. For 2011, crossed blocks totaled roughly $42.8 billion.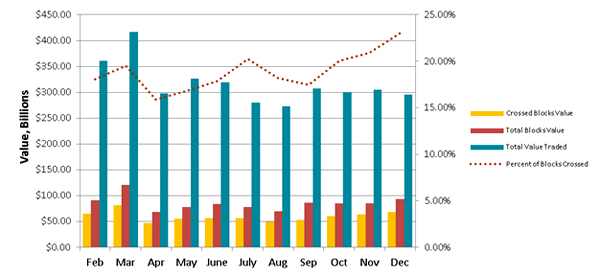 This includes blocks done in dark pools and the upstairs market, according to Liquidnet Canada chief executive Robert Young. This is up from the mid-teens level in 2011.
"Who knew the value of trades crossed was this high?" Young said. "This is a big number compared to what trades in blocks in the U.S."
In contrast, crossed blocks constituted between 10 to 11 percent of total volume in the U.S. in 2012, according to data.
Young said the increase in blocks was due in part to the rise in off-board trading in the country's upstairs market. The upstairs market is where some of Canada's largest bank broker-dealers, such as Toronto Dominion, Royal Bank Canada and Scotiabank, and ATSs such as Liquidnet match up blocks for institutional investors.
"Canada has a large institutional presence and they trade upstairs to get blocks done," Young said.
Another facet in the increase in block trading is the fact that electronic trading simply isn't as prevalent in the Great White North as it is in the U.S.
In Canada, the big bank brokers still match buyers and sellers together in size on a regular basis, in voice negotiations. This is not the case in the U.S., where thanks to the rapid acceptance of algorithms, smart order routers and fragmentation, trade size has shrunk and blocks are harder to come by.
The rise in the share of block trading can also be traced to recent regulatory action by Canadian regulators, Young said. Last April Canada's regulatory bodies passed rules that shifted regulation fees to be based on messages, not trades. That in effect curbed high-frequency traders, who often place thousands of orders and trade in small lots of a few hundred shares ahead of larger institutional orders.
"The search for liquidity shifted back towards blocks," Young said.