Ahead of Veterans Day, Traders Magazine speaks with Ben Biles, Co-Founder & CEO of American Veterans Group (AVG), a Service-Disabled Veteran-Owned investment bank and broker-dealer, which is committed to providing significant value to American military veteran communities.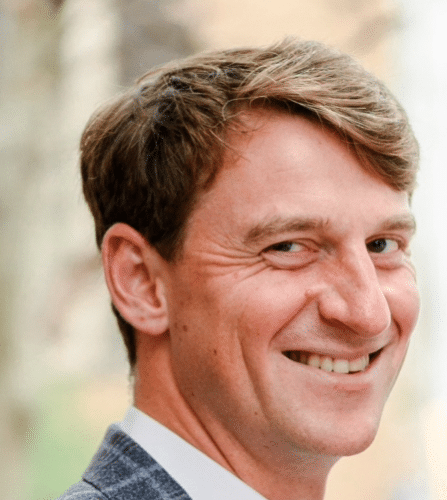 Biles and his best friend and U.S. Naval Academy roommate dreamed of working together on Wall Street after completing their required military service. "He and I had often talked about going back to school to study finance with the idea that we would, one day, start a business together," Biles recals.
Unfortunately, just weeks after leaving the Navy, Ben's best friend Keith took his own life. Keith's story has unfortunately become more common with a growing number of post 9/11 veterans returning home and facing the hardship of PTSD and depression. Ben shifted course to honor Keith's legacy by building a business to serve veterans and add value to our country.
In this pursuit, he joined forces with his mentor and industry leader William Frazier, former managing partner at Gates Capital and former co-head of global fixed income at Oppenheimer, to add deep experience and a track record of business and professional excellence. In 2018, they formed American Veterans Group, a unique social-impact investment bank that now provides philanthropic support to Post 9/11 military veterans nationwide.
"We structured the company as a Public Benefit Corporation, which we can proudly claim as Wall Street's first and only PBC," Biles said.
"In support of our social mission, we're 25% owned by a non-profit foundation that we created – the AVG Foundation – which serves as the conduit for our philanthropy," he added.
The Foundation supports veteran-focused non-profit organizations in the communities where AVG and its clients do business.
AVG's primary clients include all money managers ranging from hedge fund, pension, money management, private wealth and high net investment companies.
Since the firm's establishment three years ago, AVG has donated $184,000 to 22 veteran-focused non-profit organizations in 22 U.S. cities.
AVG's philanthropy has directly benefitted more than 1,300 veterans to date, with its primary focus being on helping veterans transition to civilian life, mitigating the shockingly high rates of veteran employment and suicide, and eradicating inequalities between veterans and their non-veteran peers, commented Biles.
"One of the big differentiators for us is that we tie our social mission directly to the work we do on behalf of our public and corporate finance clients," he said.
"The social-impact we deliver for our clients extends well beyond their being able to check the diversity supplier box. We're striving to establish as a thought leader in the social-impact and ESG investing space," Biles said.
By choosing AVG to access capital markets, its clients are able to point to a broader, measurable social impact that they're having on their communities.
"That's particularly important as social-impact minded investors drive growing interest in ESG investing strategies," said Biles.
"In a real and tangible sense, we provide our clients with a turnkey ESG solution, while providing full-service broker-dealer expertise," he added.
Creating liquidity
From an equity trading desk perspective, the buy-side's primary objective is liquidity, according to Biles. The structural changes over the past 20 years resulted in fractured liquidity, often making it difficult for large institutional investors to source adequate liquidity.
Biles said that cash equity trading at AVG is a high- and low-touch global equity desk with complete market access for exchanges and dark liquidity pools.
"AVG has complete access to all liquidity pools in the market and utilizes our unique distribution network at every level of the capital markets," he said.
The volume levels ebb and flow with the market volumes, generally increasing during high volatility durations and less so during lower volatility, he added.
Biles thinks that the current equity structure is highly dependent on technological speed which has driven execution volume trades to minuscule lots. "It is a primary driver of innovation because if a firm does not focus on technology, there is no way to compete in today's equity markets," he said.
When asked about future plans, Biles said that growth, business development and expanding its capacity to serve clients and, importantly, deliver on its social mission – are all on agenda for AVG this year.
"We have truly differentiated ourselves among veteran-owned broker dealers by delivering both exceptional business value as a full-service firm and providing transparent social impact that's making a tangible difference in local communities where our clients do business," he said.