FLASH FRIDAY is a weekly content series looking at the past, present and future of capital markets trading and technology. FLASH FRIDAY is sponsored by Instinet, a Nomura company.
London seems to have averted a worst-case scenario of a massive exodus of financial firms and jobs due to Brexit, and the city remains firmly ensconced as a top-two global financial center, along with New York. 
A sift-through of Traders Magazine archives reveals that at one point, London was a target for closer cross-Atlantic trading ties.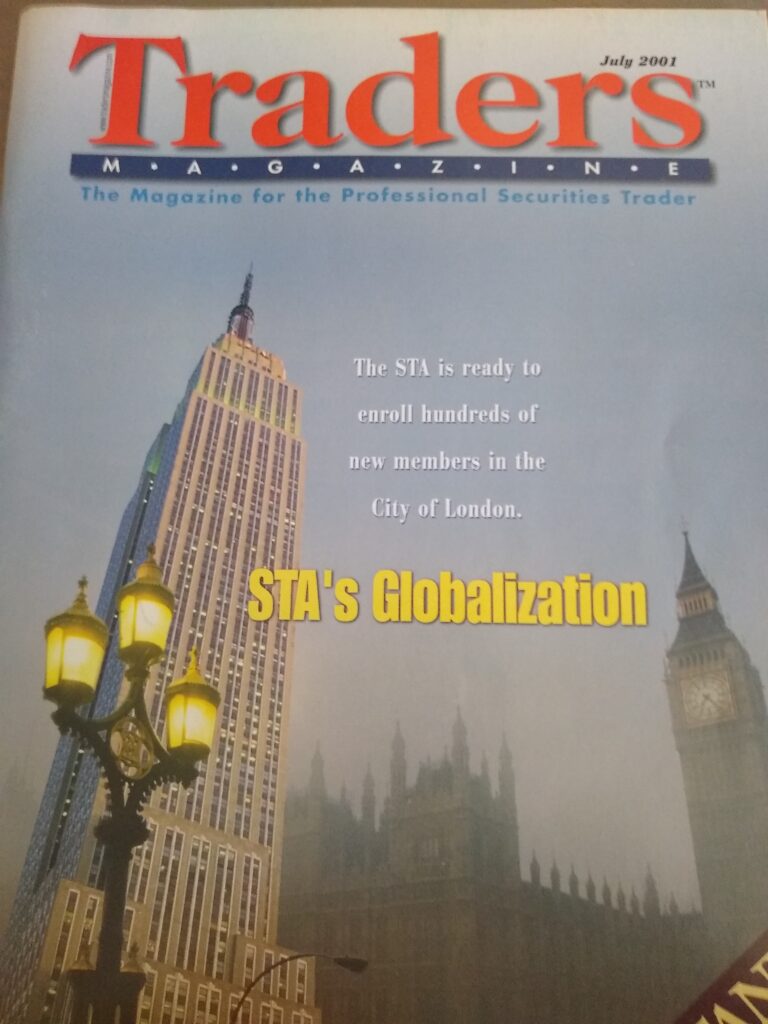 The cover story of the July 2001 Traders Magazine was all about the U.S.-based Security Traders Association's plan to launch a London affiliate.
In the article, Lee Korins, then STA President, told Traders that the London affiliate was only months away from formation, and "it could be a very big affiliate."
Other key pieces of information reported were: there were more than 200 London-based traders who expressed interest in joining an STA; two exploratory sessions were held and another was planned; and there was a shortlist drawn up for who would lead a London affiliate.
Canaccord Capital's James Duncan, then secretary of the STA and chairman of its international committee, said in the article: "The STA should expand as our markets become increasingly co-dependent. There are a number of stocks that trade globally and [trading] books are literally passed around the world."
Nearly 21 years later, markets are even more linked and co-dependent, but STA affiliates are in the U.S. and Canada only.
What happened?
We weren't able to piece together the full story, but we dug up some information.
For starters, as it turns out, the STA had established affiliates in London and Paris in the 1980s. But they didn't last.
Traders Magazine published a Q&A with John Giesea, Korins' successor as STA President, in December 2001. From that interview:
"Traders: The STA had a London presence and it failed. You're getting ready to re-open your London affiliate. Why will it succeed this time?
Giesea: Before it was never a very vibrant or active part of the STA, but it was a part. This is a little different. Over the past year or so, there has been an influx of Americans into the trading community of Britain. And thus the opportunity arose to gain some momentum with the STA. Hopefully, by the end of the year, we should be ready to announce an affiliation with that group."
London and Paris STA affiliates did in fact exist, at least nominally, after the 2001 planning year: a 2008 STA comment letter to the U.S. Securities and Exchange Commission listed London Security Traders Association and Association Française des Equity Dealers as affiliates.
When reached by Traders Magazine this week, Giesea shared some general recollections of the STA's trans-Atlantic ambitions in the early 2000s. "International was the buzz" at the time, he said. The STA's overseas initiative was "relationship-driven," he said, though ultimately the effort "produced mixed results."
The overseas push from 20+ years ago predates current STA leadership. STA has not publicly announced any formal plan to have a traditional overseas affiliate, and the organization wasn't able to provide further information on previous initiatives.