Research trumps trading. That's the reality facing trading desks in the current industry slump. Because assets under management have declined, as has portfolio turnover, the buyside has fewer commissions to throw around. Combined with rate pressure, that means money managers have been forced to reapportion their commission dollars between research and trading. After years of growth, trading is now getting the shorter end of the stick.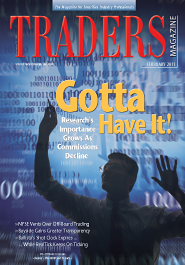 "If you don't have a research platform you're dead in the water," said Michael Darda, partner and chief economist at MKM Partners, a research and trading firm. "It's increasingly difficult to compete in this environment if you're a one-dimensional firm–that is, offering either only executions or research."
See Sidebar: Weeden Looks for Research Edge
See Chart: Weighted Average Commissions Allocated for Specific Services
U.S. equity assets under management tell the story. According to the Investment Company Institute, for the first 11 months of 2010, the total of U.S. equities invested was $3.93 trillion. That's up slightly from $3.57 trillion in 2009, but off sharply from $4.9 trillion in 2007 and $4.57 trillion during the same period in 2006, prior to the global economic crisis.
Correspondingly, total commissions have declined as well, according to estimates by Greenwich Associates. The consultancy estimates that for 2010, aggregate commission spend was $10.5 billion. That's down 13 percent from 2009, when commissions were $12.3 billion. In 2008, during the financial crisis, commissions were at an all-time high of $13.9 billion. The difference between 2008's equity commission levels and 2010 is a staggering $3.4 billion.
The decline has affected all levels of the equities business, according to financial statements for the first nine months of 2010. In the bulge bracket, for example, Goldman Sachs reported a decline of 9 percent during the period in its equities commission revenue. Among regionals and boutiques–those highly dependent on research–Piper Jaffray reported a 15 percent decline in its institutional equities revenue. Finally, among execution shops, Investment Technology Group reported a 12 percent decline in the first three quarters of the year.
As a general rule, commissions are used to pay for both of the primary offerings provided by the sellside: research and execution services. Since 2006, the buyside has devoted more of its commissions for research. But during the financial crisis, this rise didn't affect brokerage firms because there was so much business being thrown at the Street. But now that business is down to 2006 levels, brokers are feeling the pinch–particularly execution-only brokers.
Because total commissions were on the upswing during the crisis, this state of affairs was good news for all types of brokers, including those who didn't provide research. But the situation has changed with the commission downturn.
An upcoming report from Tabb Group will show that 64 percent of buyside U.S. commission revenues were used to pay for alpha-generating ideas–research–in 2010. Conversely, only 36 percent of U.S. commission revenues were used to pay for execution-related services, such as algorithms and connectivity.
Those figures represent a sharp increase on the research side, compared with the years before the market meltdown. Greenwich reports that in 2008, 48 percent of commissions were spent on research and 39 percent on execution. For comparison, 42 percent of commissions were targeted toward research in 2007 while 34 percent went to execution. In 2006, the split was 42 percent for research and 28 percent for execution.
In 2010 commission spend had risen to 53 percent for research and advisory services, sales coverage and corporate access while 35 percent targeted execution, according to Greenwich.
At the end of day, research leads the way for most traders on the buyside at Cortina Asset Management in Milwaukee. Roughly 75 percent of Cortina's commissions still goes toward research. This is the same as it was last year.
Cortina head trader Kurt Kujawa told Traders Magazine his overall 2010 commission spend was down from 2009, with a 15 to 20 percent drop, seen in the second half of 2010.
"We trade the small caps," he said. "I would say the vast majority of our spend is dedicated to research." He noted that research is crucial when you're investing in smaller companies.
Kujawa gets his research from a variety of firms, from the bulge to the boutiques.
The impact is being felt across the board. Those firms that garner a goodly chunk of their order flow from their trading services are the most exposed. Execution-only shops, for instance, are scrambling to add research. Bulge bracket shops, which have built out extensive trading facilities in the past five years, are less affected because they already run large research operations. Mid-tier firms, regionals and boutiques, which derive the bulk of their flow from their research offerings, are similar to the bulge in that managers need to pay their chits.
Ex-Only
According to several sources, research providers–from the bulge to the regionals–have been putting pressure on managers to do more business with them. The story goes that these firms have told the buyside they understand that commissions are down, but that the value of the research and corporate-access services they provide has not, and that they deserve payment for those.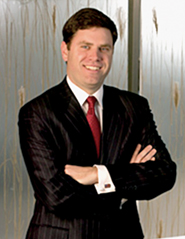 The commission squeeze is affecting all firms, but particularly the execution-only shops, which are getting the cold shoulder from the buyside and saw their trading flows dry up in 2010. In a bid to stay in the trading game, they have been increasingly getting into research. And their offerings haven't necessarily been the traditional fundamental "buy-sell-hold" variety, to avoid direct competition with the bulge firms. Instead, they've tried to push unique and differentiated market intelligence to help them to stand apart.
Even firms with highly regarded electronic offerings have been affected. To get in the game, firms like ITG, acquired research deaprtments. It bought Majestic Research–a nontraditional research provider–to be the cornerstone of its research effort. Originally a data mining firm, Majestic examines large data sets, such as figures from Nielsen Ratings, and manipulates them to provide insights into stocks.
According to ITG officials, the addition of research is expected to add between 5 and 10 cents per share to ITG's 2011 earnings, forecast to come in at $1.22 per share. And the improvement in the bottom line makes chief executive Bob Gasser happy.
"One of the things we're very pleased with so far is the early returns, in terms of us being re-categorized as a firm," Gasser said on ITG's third-quarter conference call. "We're no longer in this bucket of 'You guys are an execution-only firm. You don't receive any research votes, so we can only pay you in this way, to this magnitude.'"
WJB Capital Group is another firm offering research.
"With shrinking volumes and broker lists, I think you must have a research offering to be relevant and answer that fundamental question that almost every director of research and portfolio manager or analyst is asking: 'Why am I paying broker-dealer X?'" said Craig Rothfeld, chief executive at WJB Capital Group. "The answer is either corporate access or research or capital. It's not to say the pure execution-only firms can't or won't survive because they will. But gaining market share and growing the top line without these product offerings will be next to impossible."
For example, the Williams Capital Group, a New York-based minority-owned brokerage firm, added six equity analysts recently as it launched an in-house research department. The firm's move into equity research comes as a result of customers demanding more services and knowing that simply providing good execution isn't enough. (See related story in Inside Trading)
New Approach
Firms like BTIG and JonesTrading have opted to provide the buyside with corporate access, which is defined as brokers providing institutional investors with face-to-face meetings with corporate executives or investor relations officers of companies on their investment radar.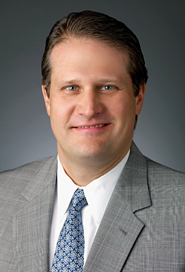 For example, JonesTrading has provided corporate access by discreetly setting up dinner meetings between the buyside and corporate executives. It looks to set itself apart by focusing on underserved areas such as mid- and small-cap companies and bringing meetings to cities outside the U.S., such as in Canada.
Liquidnet also recently launched a program to arrange research meetings between clients and companies. And at the end of last March, Instinet introduced an electronic service that connects money managers to corporations looking for institutional investors.
As for MKM Partners, it made the leap into research several years ago and has never regretted it. The firm began life in 2002 as an equity execution-only shop on the floor of the NYSE. Then it decided to add research, and Darda joined the firm in 2003. He built the research group for the firm as a complement to its trading. He said the addition of the research group was instrumental in helping the firm to survive and thrive during the financial crisis. MKM now has 20 research staff and might add more.
Firms whose business is based on distributing research to win flow don't seem to be as affected. This group includes regionals, mid-tiers and boutiques.
At longtime research provider Stifel Nicolaus, head of research Hugh Warns said his firm is unfettered by the increased competition in the research space due to the quality of its offerings.
"Our premise is based on the lack of quality independent research available," he said. "Following the market turmoil of 2008 and 2009, research was neglected. Some of the bigger firms are now going out and pulling capital away from their trading desks and plowing it back into research."
But Stifel remained committed to its research focus. It bulked up its staff by hiring experienced people and through the acquisitions of Legg Mason, Ryan Beck & Co. and Thomas Weisel Partners. The bulge firms at that time, Warns said, were busy shifting their efforts into other trading areas, such as proprietary trading, derivatives or structured finance and pulled resources away from equity research.
"Now we're seeing the bulge more active in adding research staff. Clearly, there has been a turn in their business model," he said.
Tom Michaud, president of Keefe Bruyette & Woods, isn't worried about the new entrants, either. He told Traders Magazine that providing research and content is very important and that it may, over time, become necessary for a trading partner to offer more than just technology.
"I think the trend is for buyside firms to want to shrink the list of whom they trade with, and right now, research is more of a differentiator than technology is," Michaud said.
Research is very critical to KBW's trading desk operations, he said. While he declined to comment on what percent of his trading desk's flows come from research, he did say it was "substantial"-which he defined as more than 50 percent.
Big Firms
Among the very largest firms, all of which have invested heavily in their trading desks in recent years, some have begun to expand their research offerings. Others are merely tweaking the content they offer.
Barclays Capital, which already provides customers domestic fundamental research, is now growing its corporate-access business and expanding its global research effort. By leveraging all parts of the company–from research to underwriting to market making–the firm's goal is to keep clients' business. And getting its clients in front of top executives on a global basis is a priority.
Chris Sztam, head of institutional corporate marketing at Barclays Capital, said managers have been increasing the amount of commissions dedicated to corporate access versus execution. He declined to provide specific numbers or a break out of commissions, but said there "absolutely" has been a move away from execution spend to corporate-access spend.
"When you look at all the meetings with our investing clients, increasingly, the weight they place on the different services the sellside provides is skewing more and more toward toward corporate access," Sztam said. "In my travels around the globe, I've heard spending on corporate access ranges from 20 to 40 percent of total commission spend. Some institutional accounts even have a discreet formula on how to pay just for corporate access."
Barclays has 65 senior research analysts in the U.S., covering about 965 companies in total. According to a spokesman, nearly the entire Lehman Brothers equities department moved to the firm, including the equities research team. The group focuses on large- and mid-cap companies.
One buyside trader said his firm prefers to use the bulge for its research needs. His portfolio managers favor those that provide better or have deeper access to corporate executives. Of the 40 percent of his commission spend that is geared toward research and advisory services, nearly two-thirds is targeted at getting corporate access.
"Our portfolio managers make up their own investment models that are based on the amount of corporate access they get," the buysider said. "Whatever they glean from management is what goes into their models."
Bank of America Merrill Lynch is also expanding its global research footprint.
It already provides clients with 520 analysts covering 3,200 companies. And Candace Browning, head of BofA Merrill Lynch global research, told Traders Magazine it plans to hire more analysts and provide its U.S. clients more access to emerging Europe, Latin America and Asia markets, as well as foreign clients with more access to the U.S. and global opportunities.
Browning said the firm is not under pressure to boost revenues from research. Rather, the firm was simply responding to demands from its institutional clients.
So all the brokers have their work cut out for them, said Sanford Bragg, chief executive at consultancy Integrity Research. The key to success for research providers is simple, he said: Distinguish themselves from one another. Non-bulge firms can do that by offering small-cap research, which is underserved by the bulge. But, he added, they will have to add it on a low-cost basis because commissions for small-caps are lower than for large-caps.
"If you look at the whole research space, you see the most successful areas are often those where there is a differentiated service that is different from traditional fundamental research offered by the Street," Bragg said. "The majority of bulge research is currently based on financial reports, buy-sell-hold recommendations, valuations and earnings estimates."
Mark Kuzminskas, director of equity trading at Robeco, a Boston-based money management firm with $19 billion in assets, invests across the equity spectrum. He told Traders Magazine his commission spend in recent years has been allocated at 55 percent for execution services and 45 percent for research.
Kuzminskas said he believes firms offering a research product will not need to provide execution services to survive. However, the same cannot be said for execution-oriented brokers.
"All but a select few will need a research offering to differentiate them from the pack," he said.
(c) 2011 Traders Magazine and SourceMedia, Inc. All Rights Reserved.
http://www.tradersmagazine.com http://www.sourcemedia.com/