Commentary
John Turney
Traders Magazine Online News
In this exclusive to Traders Magazine, John Turney, Global Head of Outsourced FX at Northern Trust, discusses the evolution of the fx infrastructure and what is to come.
Traders Poll
What is your favorite movie about trading?
Wall Street

23%

The Big Short

13%

Margin Call

6%

Equity

0%

Trading Places

38%

The Wolf of Wall Street

8%

Boiler Room

7%

Arbitrage

0%

Too Big to Fail

5%
Flashback Friday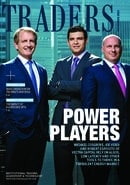 November 1999 thru 2016
The days have started to get shorter and trees go bare, Traders Magazine looks back at the month of November. Traders partied in Colorado in 2000, we celebrated Wall Street's finest women and dark pools begin to surface on the SEC's radar.
November 17, 2017
Odd lots, still defined as stock trades less than 100 shares in size, are still en vogue as high stock valuations have made it more expensive for retail, and in some cases even costly for smaller firms, to get exposure in the stocks they want. Source: Traders Magazine Online News
November 10, 2017
In this look back into the photo archives, Traders Magazine remembers the charitable side of the business and showcases photos from the 2010 Wings Over Wall Street Gala. Source: Traders Magazine Online News
November 3, 2017
For this week's FLASHBACK FRIDAY look back, Traders Magazine delves deep into its photo archives and looks at the 30th annual Colorado Denver STA Convention in 2000. Source: Traders Magazine Online News
October 27, 2017
Back in 2002, ETF trading was simple and there was only one venue to go to - Arca. But is that still true today? Source: Traders Magazine Online News
October 20, 2017
What is the state of low-touch trading in the current market structure? And how will upcoming regulations, such as MiFID II affect trading. Source: Traders Magazine Online News
October 13, 2017
Where have yesterday's automated market makers gone? Did they just disappear like the dinosaurs? Or have they evolved into something else – high-frequency traders? Today's Flashback Friday looks back at the history of market makers. Source: Traders Magazine Online News