Commentary
Eric Stockland
Traders Magazine Online News
In this blog from IEX, the exchange announces a first-of-its-kind fee that is designed to improve all trading, including the experience of displayed orders - the Signal Fee.
Flashback Friday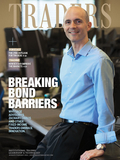 January 2000 thru 2016
Its a New Year and traders are back in the swing of things. Traders Magazine looks back at January as professionals look to head to Chicago, we review the hisstory of the OMS and other tidbits assured to keep readers warm.
January 19, 2018
In the last few months Bitcoin and crypto trading have firmly become part of the vernacular and trading discourse. But that is not to say that bitcoin and crypto trading are new. Back in 2015, Pantera Capital's Dan Morehead discussed with Traders Magazine how he traded the then unheard-of security. Source: Traders Magazine Online News
January 12, 2018
In this Flashback Friday story, Cromwell Coulson, chairman of the National Quotation Bureau, owner and operator of the manually-traded pink sheets, which has now morphed into OTC Markets, looks back to 1998 and what he has done to make trading in small cap OTC Markets' stocks safe. Source: Traders Magazine Online News
January 5, 2018
In this recent slideshow, Traders Magazine documents the evolution of order and execution management systems over the last 25 years. Check out the images right here. Source: Traders Magazine Online News
December 29, 2017
The holidays are a time of celebrating but also of giving and eating. In today's Flashback Friday Gallery Traders Magazine goes back to December 2008 and Pier Sixty where Wall Street's professionals got together to ring in the holiday to raise money for St Jude Children's Hospital and sample some of New York's best cuisine. ... Source: Traders Magazine Online News
December 22, 2017
As customary, the Security Traders Association of New York (STANY) held its winter holiday event and Toys for Tots charity event celebrating the season. In today's Flashback Friday gallery, we look back to December 2015 and the images then. Happy Holidays from Traders Magazine! Source: Traders Magazine Online News
December 15, 2017
In this week's Flashback Friday story, Traders Magazine asks the question, is there still a "magic number" where off board trading hurts the market and if so, what is it? Source: Traders Magazine Online News