Commentary
Tim Quast
Traders Magazine Online News
In this guest commentary, author Tim Quast looks back at the history of HFT and how the market has evolved to where many firms now fit the definition of high-frequency trader.
Flashback Friday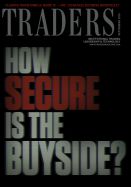 September 1999 thru 2014
As the summer fades into a memory, Traders Magazine examines the month of September. New concerns arise about the security and integrity of trading firms' infrastructures in light of more cyber crimes. Also, Traders gets a tour of the then new REDI trading floor.
September 15, 2017
Back in 2011 exchanges were furiously offering incentives to attract liquidity - at times even within their own family of exchanges. Debate ensued as to whether payment for order flow was OK. Fast forward to 2017 and the debate still rages and there's now the possibility of regulator examination of the controversial practice. Source: Traders Magazine Online News
September 8, 2017
Cybercrime is a $3 trillion industry now and affects everyone from Joe Q Public to the government to even the hallowed firms that populate Wall Street. But is the buy-side adequately prepared? Source: Traders Magazine Online News
September 1, 2017
Where do the latest trading tools come from? Traders takes a tour of the trading floor of broker-dealer solution provider REDI in Manhattan's financial district. Photos were taken on September 10, 2015. Source: Traders Magazine Online News
August 25, 2017
In a time when exchanges were losing market share to the then-new alternative trading venues dubbed "dark pools," one major exchange adjusted, adapted and overcame to remain a profitable and virile trading destination. Source: Traders Magazine Online News
August 18, 2017
Social media has become a de facto staple of everyday life for billions of people around the globe. But have traders and Wall Street been able to harness the power of this new medium and used it to help the trade more efficiently and profitably? Source: Traders Magazine Online News
August 11, 2017
Back at the turn of the century, specialist firms and the brokers were faced with new challenges – and not just the Millennium Bug type. And one of them was LaBranche & Co, a firm that traced its roots back to before the Great Depression. But could it adapt and survive the electronic trading revolution? Source: Traders Magazine Online News